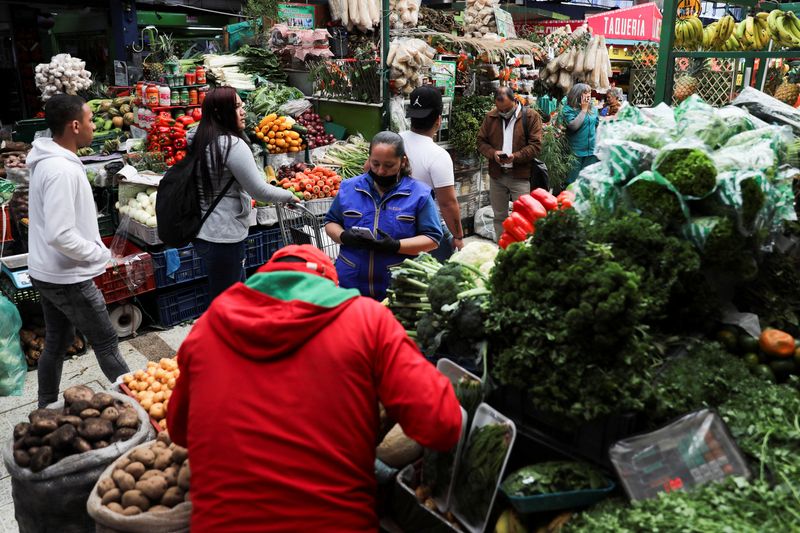 © Reuters. People walk through the Paloquemao market square, amid inflation reaching the highest figures in years, in Bogota, Colombia October 7, 2022. REUTERS/Luisa Gonzalez

BOGOTA (Reuters) – Colombia's economy has high growth potential, boosted by agriculture, tourism and interconnectivity between different economic sectors, but will continue to depend on its oil and mining industries, a high-ranking official of the Inter-American Development Bank said on Thursday.
The government of President Gustavo Petro wants to move Colombia away from its reliance on extractive industries, sectors which generate the largest income for Latin America's fourth-largest economy in exports, taxes and royalties.
Petro wants to boost agricultural production in the country of 50 million people to increase food output by giving land to poor farmers and use tourism to generate employment and bring in foreign currency.
"We're proposing a conversation that has to start today to be able to transition towards an economy that's much more diverse in the coming years," Tomas Bermudez, head of the IDB's Andes section, said at a press conference.
The transition will "have to be financed and leveraged with what Colombia produces today, which are hydrocarbons and mining," he said, adding that the new IDB report on transforming productivity in the Andean region did not propose ditching these industries.
The country's agricultural industry demonstrated its resilience during the COVID-19 pandemic in 2020 when it grew 2%, while Colombia's economy contracted 6.8% overall.
Colombia's services sector has the potential to bring an additional 1.7 million jobs to the country by 2050, of which 90,000 would include the modern services sector, such as computer programming, the IDB study found.
The global energy transition and process of decarbonization has potential to increase demand for metals including , nickel and graphite, the report said, adding that exploration projects for these metals could benefit Colombia.
Colombia's government forecasts economic growth of 8.2% in 2022, but will slow to 1.3% this year.