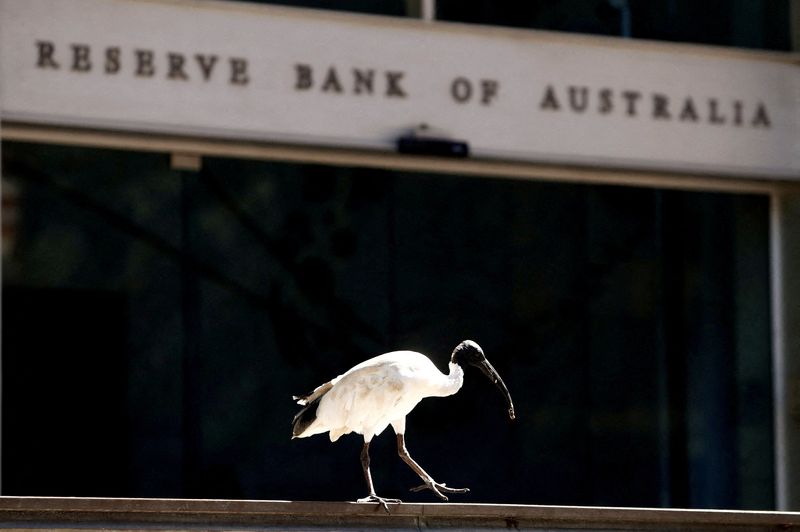 © Reuters. FILE PHOTO: An ibis perches next to the Reserve Bank of Australia headquarters in central Sydney, Australia February 6, 2018. REUTERS/Daniel Munoz//File Photo/File Photo

By Sujith Pai
BENGALURU (Reuters) – The Reserve Bank of Australia will hike its interest rate again by 25 basis points to 3.60% on Tuesday, followed by one more lift next quarter, before pausing until next year, taking the peak rate higher than previously thought, a Reuters poll found.
Despite 325 basis points in rate increases since May, controlling inflation has been a major challenge for the RBA as it reached a more than three-decade high of 7.8% last quarter, considerably above the target range of 2%-3%.
The central bank was forced to abandon its previous plan to pause at its February policy meeting and signaled more rate hikes could be needed in the months ahead.
All but one of the 28 economists in the Feb. 27-March 2 Reuters poll said the RBA would raise its official cash rate by 25 basis points, reaching a more than decade-high of 3.60%, at its March 7 meeting. One saw a 15 basis-point move.
"The RBA does seem more concerned about inflation. The fact demand is a key driver and not just the supply side, we think they have got more work to do to ensure inflation comes back to target," said Catherine Birch, senior economist at ANZ, who forecast a 25 basis point hike at the upcoming meeting.
It is then expected to lift rates to 3.85% in the April-June quarter – a level not seen since April 2012 – and hold them for the rest of the year.
The minutes from last month's meeting showed the RBA discussed only two options – hiking by 50 basis points or 25 basis points. This was a marked change from December when it had considered staying put.
A strong minority of more than one-third of respondents, 10 of 28, predicted rates to peak even higher at 4.10% next quarter. One economist had a peak of 4.35% in the third quarter.
The expected peak has been raised by markets to around 4.10%, up from 3.60% at the beginning of the year. This suggests there could be at least three more rate increases in the near future.
Yet even with further rate increases, inflation was not expected to return to the RBA's 2-3% target range before the second half of 2024, pointing to a long period of pain ahead, a separate Reuters poll showed.
"If global inflation resurges or domestic supply chains are disrupted by weather events, we may need to see interest rates move even higher to quell prices," said Harry Murphy Cruise, economist at Moody's (NYSE:) Analytics.
"Our baseline suggests interest rates won't need to exceed 3.85% to bring down inflation. That said, several factors could knock Australia off this path."
Several economists foresee trouble ahead for the Australian economy, partly because higher interest rates have already slowed activity in the housing market, where prices are expected to fall more than double the correction during the 2008 financial crisis.
Just over a quarter of economists, 8 of 28, forecast at least one rate cut by year-end.