2/2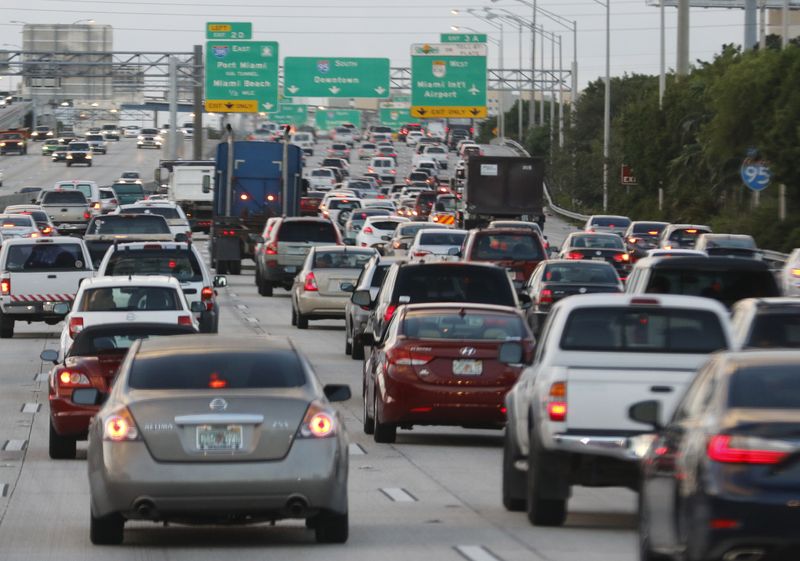 © Reuters. FILE PHOTO: Rush hour traffic is shown on Interstate 95 near downtown Miami, Florida November 5, 2015. REUTERS/Joe Skipper/File Photo

By David Shepardson
WASHINGTON (Reuters) – Travel on U.S. roads in 2022 rose by 0.9% to 3.17 trillion miles but still remains below pre-COVID 19 levels after oil prices spiked last year, the Transportation Department said Wednesday.
Road travel overall last year was up 29.3 billion miles even as it fell in December by 1.8%. In 2019, U.S. motorists logged 3.26 trillion miles for the year.
U.S. driving sharply declined after COVID-19 lockdowns were imposed in early 2020 as many people worked from home. For 2020, driving fell 11% to 2.9 trillion miles, the lowest yearly total since 2003, but rose 8% in 2021 to 3.14 trillion miles.
U.S. road deaths have risen sharply since the start of the pandemic despite a declining in miles traveled.
U.S. traffic deaths jumped 10.5% in 2021 to 42,915, the largest number killed on American roads in a year since 2005 after rising 7% in 2020, the National Highway Traffic Safety Administration (NHTSA) has said. Deaths fell 0.2% in the first nine months of 2022.
As U.S. roads became less crowded during the pandemic, some motorists perceived police as less likely to issue tickets, experts said, likely resulting in riskier behavior on the roads, according to NHTSA.