The new Netflix true crime documentary series Murdaugh Murders: A Southern Scandal details the various controversies surrounding the Murdaugh family, a dynasty of prosecutors in South Carolina, and the events that led up to the brutal deaths of matriarch Margaret "Maggie" Murdaugh, and her 22-year-old son, Paul Murdaugh.
Maggie's husband Alex Murdaugh is currently standing trial for the murder of both his wife and son, although his other son, Buster Murdaugh, has spoken in his father's defense. However, accusations of criminal behavior had been levied against the family long before Maggie and Paul were killed in 2021. Suspicions fell on the Murdaughs after a boating accident which led to the death of Mallory Beach, whose family alleged that Paul's drunk negligence was to blame. The death of the Murdaughs' housekeeper Gloria Satterfield also contributed to the cloud of suspicion that hung over the family, as did an unsolved hit-and-run involving one of Buster's old classmates, Stephen Smith.
While Alex Murdaugh maintains his claims of innocence in court as far as the murder charges are concerned, backed up by Buster, the documentary also includes interviews with several other subjects who were close to the family, including Paul's ex-girlfriend Morgan Doughty.
Morgan first met Paul as a junior in high school, shortly after relocating to South Carolina from New York with her parents. They began dating, and in Murdaugh Murders, Morgan describes with great candor the emotional and physical abuse that she was subjected to during their relationship, including kicking, punching, choking, and verbally attacking her when he had been drinking. One such incident resulted in Paul insisted on driving Morgan home while he was intoxicated, and crashing his truck—which his family then covered up.
"I think that our relationship is just something that I really clung to just because when it was good, it was really good," she says in the show. "But when it was bad, it was really bad."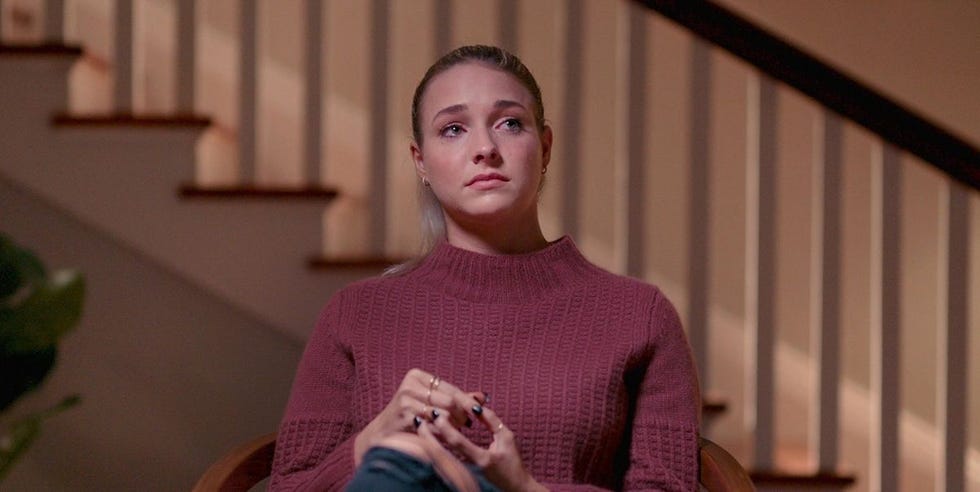 Netflix
Morgan goes on to reveal that she was friends with Mallory Beach, the teenager who died in the boating accident, and that Mallory even tried to warn her about Paul's erratic drunk behavior. Following Mallory's death, which her family insist is a result of Paul driving the boat while drunk, Morgan's family intervened and forced Morgan to end her relationship with Paul.
Where is Morgan Doughty now?
Morgan has since filed a lawsuit against the Murdaugh family. Specifically, a creditor's claim for $10 million in order to provide compensation for the injuries and scarring that she sustained during the boating accident. Although she appears in Murdaugh Murders to share her story, she has kept a low profile with regards to other media—although she is on social media, and has posted a photo of the "M" tattoo she got to commemorate Mallory.
Philip Ellis is a freelance writer and journalist from the United Kingdom covering pop culture, relationships and LGBTQ+ issues. His work has appeared in GQ, Teen Vogue, Man Repeller and MTV.